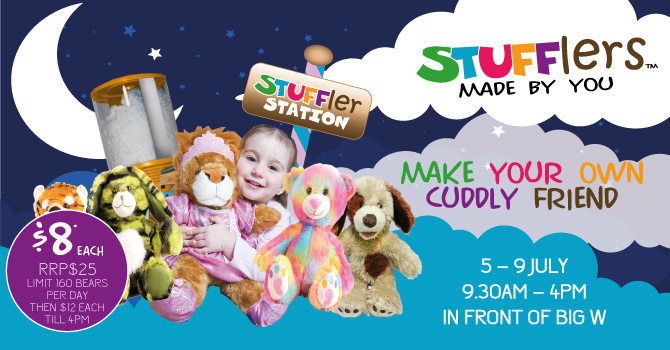 Join us these School Holidays with Stufflers Bear Building to make your own furry friend for only $8*!
Mon, 5 Jul – Fri, 9 Jul 2021
9.30am – 4pm
Visit the Stufflers Bear Building event on Facebook and click 'Going' for a chance to WIN a $150 Party Pack – CLICK HERE
In addition to Teddy Bears we have all kinds of new friends including Cats, Dogs, Dragons, Monsters, Jungle Animals and more for you to love!
 Choose from up to 12 Stufflers plush Animal Skins!
 Enjoy our activity to bring your bears to life!
 Insert a love token in the love ceremony!
 Give your new friend a name and record it on your Stufflers Birth Certificate!
 Take your new Stuffler friend home to love!
Only the first 160 Stufflers PER DAY can make a bear for $8. After 160 have sold, the price only rises to $12, which is still a PAWsome 50% off!
Stock selection rotates and is random EACH DAY and can even change hourly as we sell out. Do not pick what you want until you get to the table to avoid disappointment
All bear accessories are available at an ADDITIONAL cost. ONLY while stocks last!!
COVID Safe Practices:
Please always follow Government Guidelines as they apply on the day
Please be mindful to keep a safe 1.5m distance between you and others
Numbers are capped at 1 child per 2m2
Wash or sanitise your hands regularly
Cough or sneeze into your elbow
Stay at home if you're unwell. The health and wellbeing of our community is our priority.
Stay Home if anyone is feeling unwell, experiencing COVID-19 symptoms, been in contact with someone who has tested positive to COVID-19, or been to a COVID hotspot. We reserve the right to refuse entry to any persons displaying simptoms or not adhering to Government Guidlines.
For any enquiries, please contact Centre Management on 07 4122 7400.