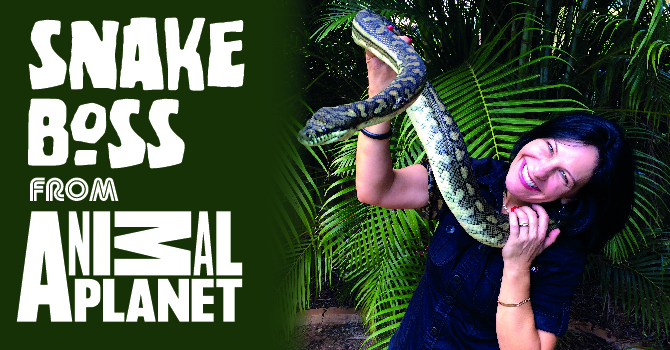 MEET JULIE BAKER. STAR OF HIT TV SERIES 'SNAKE BOSS'
Julia Baker is the star of the hit TV series "Snake Boss" currently in its 4th year of airing around the world and here in Australia on Discovery's Animal Planet.
Snake Boss became the highest rating show ever on Animal Planet Australia / Pacific Rim and is a favourite with children all around the world in over 170 countries!
Now Julia is on a mission to bring her Reptiles up close and personal to her audiences and will be performing live shows throughout….
With every show Julia's objective is to share her passion and motivation in order to help the audience understand and respect these wonderful animals whilst staying safe at the same time.
Meet Monty the gentle giant Python, Mango the queen of snakes and many more plus of course some awesome Aussie Lizards including Rocky the "Two headed Lizard" (Shingleback.)