Seafood on a Budget with Sally Jenyns…
Just in time for Easter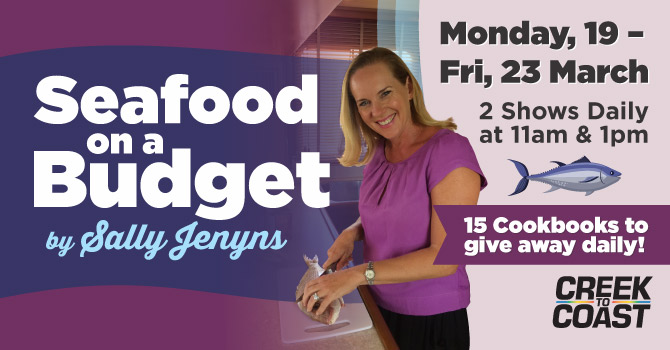 Join us at Station Square Shopping Centre for a deliciously affordable fabulous time!
Sally Jenyns, Creek to Coast presenter, will be in centre showcasing Seafood Soups, Seafood Salads, Seafood – Italian Style, Seafood Crowd Pleasers and Entertaining with Seafood.
Throughout the week Sally will be cooking:
SMOKY SEAFOOD CHOWDER
SHELLFISH BROTH WITH PRAWN WONTONS
THAI CUTTLEFISH & LYCHEE SALAD
CUTTLEFISH AND CHORIZO SALAD
SUSHI STYLE SALAD
BLACK MUSSELS WITH TOMATO RISONI
SANDCRAB AND FENNEL RISOTTO
FETTUCCINE WITH SALMON AND MASCARPONE
LIME FISH CAKES WITH SWEET AND SOUR SLAW
FISH FAJITAS
FISH NOODLE BALLS
POTTED SMOKED OCEAN TROUT
You can find all of Sally's Recipe's HERE
CONGRATULATIONS TO SALLY JENYNS COASTWATCH COOKBOOK WINNERS –

CLICK HERE
A little bit about Sally: 
Cited from – (Creek To Coast, 2018)
Sally Jenyns is one of those fortunate people whose career has enabled her to follow her three great loves of fishing, cooking and travel. The direction her life has taken is not surprising considering her salty childhood. Family weekends and holidays were spent fishing and fossicking in the waters of Moreton Bay.
Her father, Ron Jenyns, triple yachting Olympian and one of Queensland's most respected fisherman, and grandfather Ian Gall, cartoonist, author and nature journalist, gave Sally a passion for the sea and the great outdoor sport of fishing from a young age.
In 1988, having completed a Diploma of Business in Hospitality Management, Sally began working as a chef on luxury charter vessels along the Queensland coastline. Subsequently, her work has taken her to exotic ports around the globe including the United States, the Mediterranean, the Bahamas and Brazil. In 1990 she crossed the Pacific Ocean, from Cairns to Mexico, spending five months in Tahiti en route.
During eight years of shipboard life, Sally's culinary expertise has both delighted international game-fishermen and lead her to writing about her enviable lifestyle.
In 1995, the Sunshine Coast local, released My Funky Fishing Book; a children's how-to-fish manual which sold more than 25,000 copies.
Sally's television career began in 1996 as the seafood specialist on Seven Queensland's popular saltwater lifestyle programme Brownie's Coastwatch. Her first cookbook Fishing and Feasting sold over 20,000 copies over that summer.
Sally has worked on all of Seven's local programmes, including Great South East and Queensland Weekender while publishing another two cookbooks, The Coastwatch Cookbookand Easy Eats for Lazy Weekends, which continue to sell strongly.
Sally has been a presenter on the Seven Network's Creek to Coast since it's inception in 1999, and is still loving it after all this time.