Countdown Until Showtime: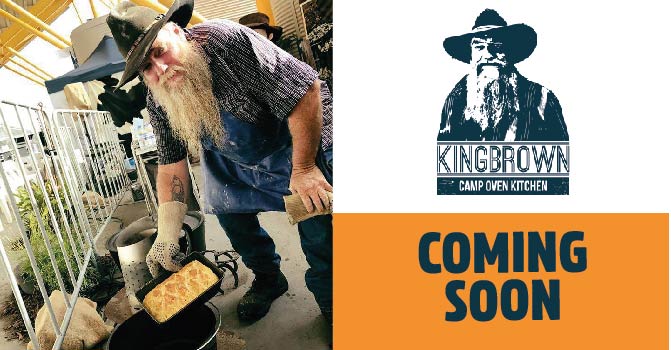 Think you've got the best camp oven recipe? Tell us about it for a chance to
Win a share of $500 worth of Station Square Shopping Centre vouchers – https://bit.ly/2VUqSWJ
Seasoned in the dusty outback of NSW from an early age Ron Wilson has been practicing the craft of Camp Oven cooking for over thirty years. Whilst cooking for the working bush camps West of Bourke he had the opportunity to learn from the last of a now long gone generation of Shearers cooks and Drovers cooks.
Being always on the lookout for another oven Ron has over time built a large collection of vintage camp ovens and become knowledgeable on the history of these brands that are no longer made. The pride of Ron's collection is his 24-inch camp oven which was one of the largest camp ovens ever made in the world and indeed only a handful have survived to the present day.
Currently, Ron's vintage camp ovens and his knowledge in the craft of using them are in demand with his catering business "Kingbrown Camp Oven kitchen". He documents his ongoing camp oven adventures on his Facebook page.
Why do I love camp oven cooking?  by Ron Wilson
Well, that is a good simple question with a maybe not so simple answer. But I will give it a go. For me originally there was a need to eat wholesome food at night after a long day of working in the bush.
A fire was the only heat source we had to cook with. Now a BBQ would be an easy option but I liked my vegetables so a camp oven was purchased. Soon it became apparent that sitting around a fire watching your oven cooking a delicious and healthy feed was actually a pleasant way to pass the time with your fellow workmates at night. Eventually I tried to better my camp oven skills by talking to old shearers cooks and drovers cooks that I came across in my travels. I began to learn how diverse a camp oven really is. They can be used for cakes and biscuits, bread and dampers and also for deserts. And here I was limiting myself to simple stews and roast mutton with the odd burnt brick I proudly called damper. I took on the challenge and tried it all.
And I kept trying until I could confidently cook more than just stew and roast meat. As my team of workers grew so did the number and size of my camp ovens. The better fed my crew was at night the better they were at their job during the day. My hobby was starting to become an important part of my business and I was always on the lookout for another oven.
For many years in 6 month stints I partnered up with a mate shooting rabbits for a living on large stations Northwest of Hungerford. He was one of the best camp oven cooks I ever met. To me it was like going to finishing school for camp oven cooking. With a huge array of game meats available to us, our combined collection of herbs and sauces, a fleet of Harding camp ovens and a competitive spirit we would try to out do the others last effort each night. Imagine wild shot quail stuffed with a mince made from rabbit and roo meats combined that is then seasoned with sage and onion and baked until crispy and golden brown in a Harding oven covered with Gidgee coals.
In Australias history a lot of ovens were destroyed through neglect and by being melted down for the war effort. So when I found one it was a great feeling. The hunt became another aspect of camp ovens that I was beginning to enjoy. It was while searching for big old ovens that I began meeting collectors who educated me on the different brands of ovens and the importance of the camp ovens place in Australia's history and development.
Camp ovens had been used to feed working crews, just like I was doing, throughout our history. I was hooked. Every old oven I found from then on was more than a pot to cook out of. They became fascinating wise old things full of secrets.
Where had they been made? Who had owned them? Who had eaten out of them? How much had they travelled? So many questions!  Sometimes the history of the oven would be known and shared to me buy the seller. This information was like gold, rare and valuable. Mostly the story of the oven would be lost but my imagination would fill in the blanks with a number of scenarios. Maybe it was used on a shearing camp and the black carbon on the outside was from a Gidgee fire lit a hundred years ago.
Or possibly it was used on the gold diggings and mostly just cooked a watery stew by a couple of battling diggers down on their luck. I started taking notice of historical photos and I found camp ovens everywhere. In more recent times I use my camp ovens socially to entertain and feed my friends.
And I seem to have a lot of friends when the word goes out that I am cooking. I also operate a business with my camp ovens, cooking at functions and doing workshops on how to use camp ovens. I feel very lucky now to be able to share my passion and the knowledge of the craft I have learned and practised for most of my life. My ovens will probably outlast me by a very long time but I will always be a part of their history now. And in the future who knows I might just be one of their secrets.
So Why do I love camp oven cooking? Because there is more to it than just that! They inspire me to challenge and express myself. They create precious memories with friends and loved ones. And they fascinate me.