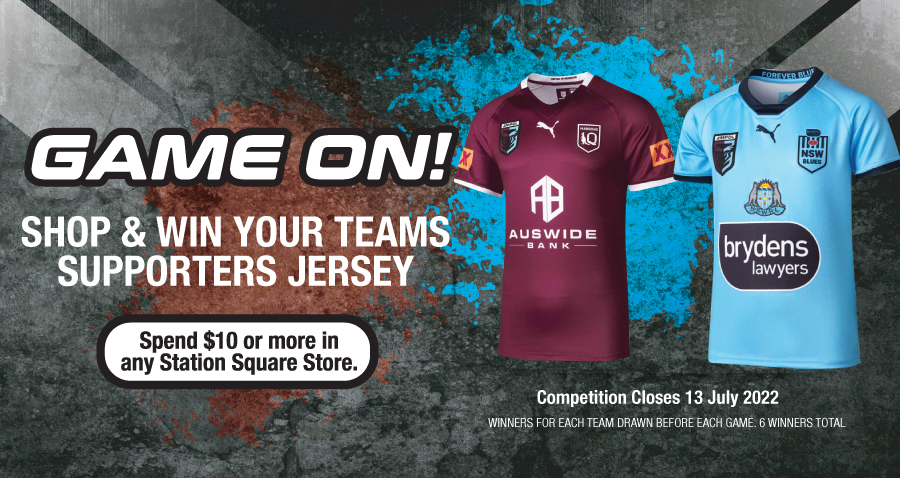 Game On!
WIN your team's JERSEY'S
We're giving away your team's Origin Supporters Jersey to 6 lucky shoppers.
Winners will be drawn the morning of each game 3x QLD Winner & 3x NSW Winners
to win simply spend $10 or more in any* station square store & enter in-centre or online
*T&C's apply. Excludes the purchase of Tobacco &/or Tobacco related products as per section 26P of the Tobacco & other Smoking products Act 1998 (TOSPA)
State of Origin online entry form
GAME I WINNERS – QLD; BRONWYN.A & NSW; DAVID.S
TERMS & CONDITIONS
STATE OF ORIGIN COMPETITION – 2022
General
The Promoter is Station Square Shopping Centre – 142 Lennox Street, Maryborough, QLD 4650
Information on how to enter and prizes form part of these conditions of entry. Entry into the competition is deemed as acceptance of these terms & conditions. Any inconsistencies between these Terms & Conditions and anything else that refers to this competition, these Terms & Conditions will prevail.
By entering the competition, entrants give their consent for their information to be used for the purpose of determining the outcome of the competition. If an entrant does not wish for the promotor to use their information in this way, they cannot enter the competition.
All times noted within these terms and conditions are AEST
By entering this competition, you agree that Station Square Shopping Centre may use photos taken for the media for future promotional, marketing and publicity purposes without any further reference, payment or other compensation to you.
You consent to us using the information you have provided on this form for the purposes of the general administration of the centre in accordance with the Privacy Act.
Who can enter
Entry is open to customers of Station Square Shopping Centre, aged 18 years of age and older; except employees and employee partners of the Promoter. Employees include but are not limited to; Tenants, Owners, and Contractors.
The term "Partners" includes any person/s in a relationship with a staff member whether married, or de facto, regardless if residing at the same address as employee.
The Promotor reserves the right to request winners to provide proof of identity, proof of residency, &/or proof of entry. If a winner cannot provide suitable proof, the winner will forfeit the prize in whole and no substitute will be offered.
When to enter
The competition commences on May 26, 2022 09:00 and closes on July 13, 2022 10:00 AEST
No late entries will be accepted
How to enter
Entry forms will be provided to shopping centre stores at the Promotors address & available to download at www.stationsquare.com.au
Entrants may enter the competition by;

Making a purchase of $10 or more at any Station Square Shopping Centre retailer

Entrants must retain their original receipt for presentation to Station Square Shopping Centre if selected as a winner, to validate the entry

Entrants must ensure the receipt is dated during the promotional period
Completed entry forms can to be placed into the entry barrel located at Station Square Shopping Centre, or
Enter online at www.stationsquare.com.au
All receipts from shops at Station Square Shopping Centre are accepted, except the purchase of Tobacco &/or Tobacco related products
The purchase of Tobacco &/or Tobacco related products is not eligible to enter the competition as per Section 26P of the Tobacco and Other Smoking Products Act 1998 (TOSPA)
Section 26P of the Tobacco and Other Smoking Products Act 1998 (TOSPA) states:

Conduct of competition in association with smoking product sale or consumption
A person must not conduct a competition that has a direct or indirect association with the sale or consumption of a smoking product, or of smoking products generally.

Entry is Limited to ONE Entry per receipt. Entry Forms without receipts are invalid.
Centre Management reserves the right to refuse entries from repeat offenders breaking the Terms & Conditions.
Prize Details and Draw
Prizes are 6 Supporters Jersey Packs in total – 3x QLD Supporter Packs and 3x NSW Supporter Packs
Each QLD Maroons Pack includes;

Canterbury Maroons Shorts RRP$45
QLD Maroons Replica Jersey RRP$160

QLD Maroons Scarf RRP$30
QLD Maroons Beanie RRP$35

Each NSW Blues Supporters Pack Includes;

Canterbury Shorts Navy RRP$45

NSW Blues Scarf RRP$30
NSW Blues Beanie RR$35

NSW prizes may be subject to last minute change depending on availability
Winners are drawn at random by a representative of the promoter, combining online entries and physical entries in to the competition barrel at Station Square Shopping Centre.
Winners are drawn in order of first QLD entry pulled out of barrel and first NSW entry pulled out of barrel.
Winners will be drawn;

Game I 8 June 2022 by 10am

Game II 26 June 2022 by 10am

Game III 13 July 2022 by 10am
The winning entrants must present their receipt of purchase to validate their entries and receive the prize's. If any winner cannot produce their original receipt corresponding with the details on the entry form, then a new winner will be drawn for that prize.
Winners will be notified by telephone within days 24 hours of the draw.
The prizes may be exchanged for different sizes at Sportspower Maryborough only and are subject to availability. They are not transferable, exchangeable or redeemable for cash or other prizes. The prizes must be claimed within 1 week of notification of winning entry. Prizes unclaimed after this period will be forfeited and a winner redrawn.
In the circumstance the winner cannot be contacted by the provided contact details within 48 hours of the draw. A redraw will occur and winner redrawn
All entries become the property of the promoter.
Centre Management's decision is final and no correspondence will be entered into.
'GOOD LUCK'